原标题:图解 | 单克隆免疫球蛋白相关性肾病(进阶版)
前段时间有战友已对该文进行总论翻译,个人觉得各论部分也非常值得阅读与收藏,特整理为两个表格,便于翻看。
(友情提醒:图片可点开放大,看得更清楚)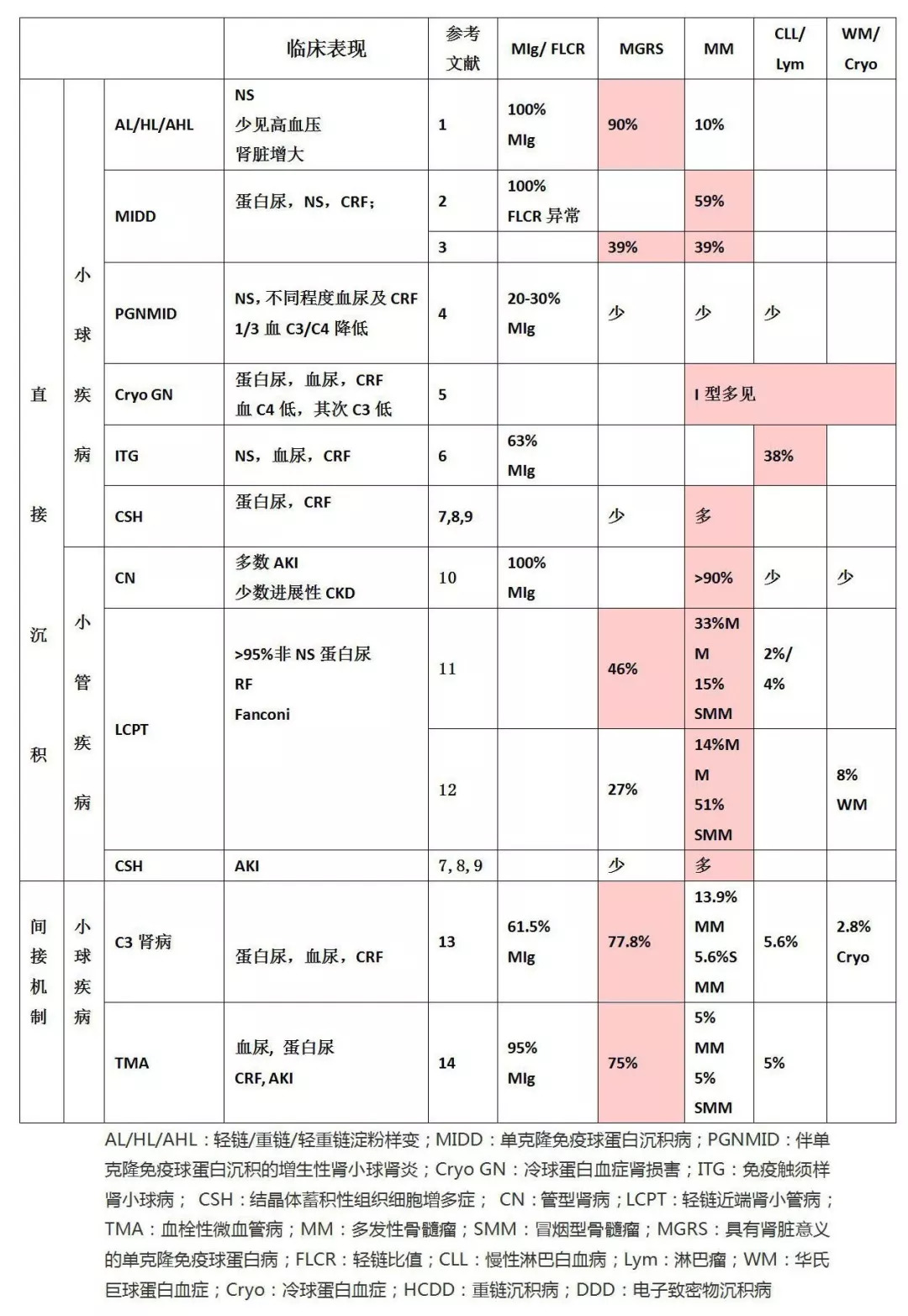 之前的内容参见
图解 | 单克隆免疫球蛋白相关性肾病
参考文献:
1、 Kourelis TV, Kumar SK, Gertz MA, Lacy
MQ,Buadi FK, Hayman SR, et al.:
Coexistentmultiplemyeloma or increased bone
marrowplasma cells define
equally high-risk populationsin
patients with immunoglobulinlight
chain amyloidosis. J Clin Oncol
31:4319–4324,
2013.
2、 Nasr SH, Valeri AM, Cornell LD, Fidler
ME,Sethi S, D'Agati
VD, et al.: Renal monoclonalimmunoglobulin deposition disease:
A reportof 64 patients from a single
institution.Clin J Am Soc Nephrol 7: 231–239,
2012.
3、 Lin J,Markowitz GS, Valeri AM, Kambham
N,Sherman WH, Appel GB, et al.: Renalmonoclonal immunoglobulin deposition
disease:The disease spectrum. J Am Soc
Nephrol12: 1482–1492, 2001.
4、 Bhutani G, Nasr SH, Said SM, Sethi
S,Fervenza FC,Morice WG, et
al.:Hematologiccharacteristics of proliferative
glomerulonephritideswith nonorganized monoclonalimmunoglobulin deposits. Mayo Clin
Proc90: 587–596,2015.
5、 Ramos-CasalsM, Stone JH,CidMC, Bosch
X:The cryoglobulinaemias. Lancet 379: 348–360,
2012.
6、 Nasr SH, Fidler ME, Cornell LD, Leung
N,Cosio FG, Sheikh SS, et al.:
Immunotactoidglomerulopathy: Clinicopathologic and
proteomicstudy. Nephrol Dial Transplant 27:4137–4146, 2012.
7、 Sethi S, Cuiffo BP, Pinkus GS, Rennke
HG:Crystal-storing histiocytosis involving
thekidney in a low-grade B-cell
lymphoproliferativedisorder.AmJ Kidney Dis 39:
183–188,2002.
8、 Gupta V, El TersM, Kashani K, Leung N,
NasrSH: Crystalglobulin-induced nephropathy.
JAm Soc Nephrol 26: 525–529, 2015.
9、 Vankalakunti M, Bonu R, Shetty S, Siddini
V,Babu K, Ballal SH: Crystalloid
glomerulopathyin monoclonal gammopathy of renalsignificance (MGRS). Clin Kidney J 7: 296–298,
2014.
10、 Rajkumar SV, Dimopoulos MA, Palumbo
A,Blade J, Merlini G, Mateos M-V, et al.:
Internationalmyelomaworking group updatedcriteria
for the diagnosis of multiple myeloma.Lancet
Oncol 15: e538–e548, 2014.
11、 Stokes MB, Valeri AM, Herlitz L, Khan
AM,Siegel DS, Markowitz GS, et al.: Light
chainproximal tubulopathy: Clinical and
pathologiccharacteristics in the modern
treatmentera. J Am Soc Nephrol 27: 1555–1565,
2016.
12、 Vignon M, Javaugue V, Alexander MP, El-Karoui
K, Karras A, Roos-Weil D, et al.: Currentanti-myeloma therapies in renal
manifestationsof monoclonal light
chain-associatedFanconi syndrome: A retrospectiveseries of
49 patients. Leukemia 31: 123–129,2017.
13、 Ravindran A, Fervenza FC, Smith RJ, Sethi
S:C3 glomerulopathy associated with
monoclonalIg: A distinct subtype. Kidney Intdoi:
10.1016/j.kint.2018.01.037.
14、 Aishwarya Ravindran, Ronald S. Go, Fernando C.
Fervenza and Sanjeev Sethi. Thrombotic microangiopathy associated with
monoclonal gammophathy. Kidney Int 91:691-698, 2017
参考文献
The Complexity and Heterogeneity of
Monoclonal Immunoglobulin-Associated Renal Diseases. J Am Soc Nephrol.
2018 Jul;29(7):1810-1823.
编辑 | 徐德宇返回搜狐,查看更多
责任编辑: